Venice is quite simply unique. Built across more than a hundred islands in the Venetian lagoon, it has inspired poets, artists, and writers for centuries. In its heyday as the Republic of Venice, it was a maritime power that traded across the world, with a steady stream of exotic spices, textiles, art, foods, gemstones and plenty more flooding back into the city.
Much of Venice is preserved as it was and its unparalleled architecture accounts for its extraordinary popularity as a tourist destination. Fighting to hold on to its soul, Venice's local population is dwindling as initiatives to limit visitor numbers are constantly up for consideration. Despite this, it is still possible to enjoy a relaxed trip to Venice by choosing to come out of season or venturing off the beaten track. Most visitors tend to stick to the main thoroughfares around St Mark's Square and the Rialto Bridge. Explore even as little as a couple of streets away from these and you're in a different world. Head out to the quieter fringes of Castello and Cannaregio or take a short boat ride across to Giudecca and you'll find the peace to contemplate what is undoubtedly one of the planet's most remarkable places.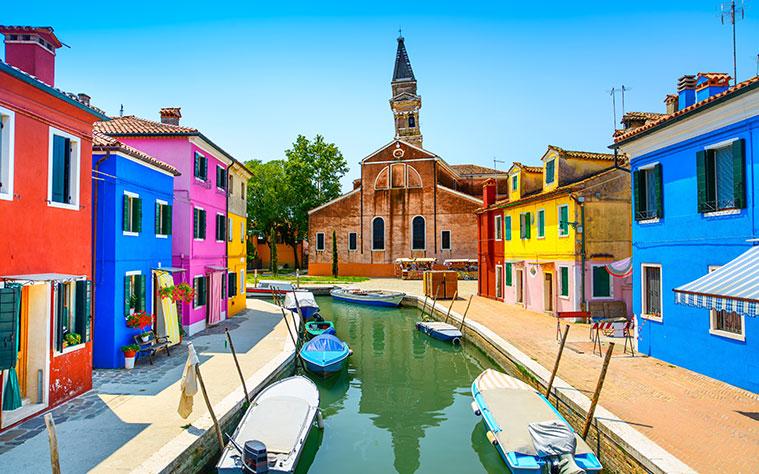 What to do and see in Venice
A gondola ride in Venice is undoubtedly a tourist cliché and the high cost can leave visitors feeling ripped off. What many don't know, is that a gondola ferry service is available at various points across the Grand Canal for a fraction of the cost. This "traghetto" service is also popular with locals.
Accademia – art in Venice reached its peak during the Renaissance when the city was at its most powerful. Unable to work in fresco because of the damp, Venetian painters specialized in panel and canvas painting, mastering the art of working with color. The Accademia is now home to works by all the city's greats, including Bellini, Carpaccio, Giorgione, and Titian.
Venice's architecture is unique, but one of its most captivating sights is hidden away on the side of a building down an alleyway. The Scala del Bovolo is a sumptuous 15th-century spiral staircase that links the floors of an equally beautiful palazzo. You can buy a ticket to climb up to the top, where you will be rewarded by an incredible view across Venice's rooftops.
Torcello is a lagoon island with a completely different feel to the main center. Lush, green and quiet, it is believed to have been one of the first Venetian islands to be populated and its cathedral is home to some incredible Byzantine mosaics. Ernest Hemingway stayed on the island in 1948.
Peggy Guggenheim Collection – one of the greatest art collectors of the 20th century, Peggy Guggenheim's canalside home now displays a permanent collection of artists such as Kandinsky, Rothko, and Mondrian. The sculpture garden is also home to Peggy's final resting place, where she is buried alongside her 14 dogs.
Tips & Tricks when visiting Venice

Venice can be extremely busy in high season—from June to September and during festivals such as Carnival. April and May make great months to visit; don't rule out visiting in winter, as you will almost have the place almost to yourself and the mist rising from the Lagoon creates a magical atmosphere.

The time zone in Venice is GMT+1 from late October to late March and GMT+2 the rest of the year.

Venice has one main airport, named after its famous 13th-century explorer Marco Polo. This relatively new airport sits on the mainland next to the Lagoon and is a boat or bus ride away from the center. Keep your eyes peeled as you land for a bird's eye view of the floating city.

Swimming in Venice's canals is strictly forbidden. If you want to swim, head for the beaches on the Lido.
Best ways to visit Venice
Venice does romance like nowhere else. The floating city offers a picture-perfect backdrop that could not be more romantic. A couples gondola ride is a classic way to experience Venice with a loved one or you may prefer to venture out into the quieter neighborhoods to escape the crowds and soak up the atmosphere just the two of you. A candlelit dinner by a twinkling Venetian canal is a wonderful way to make memories that will last a lifetime.
Venetian cuisine has plenty to offer foodies, with many dishes unsurprisingly based around seafood often fished straight from the Lagoon. Traditional wine bars known as bacari teem with tasty cicchetti, small snacks or side dishes similar to Spanish tapas. One firm favorite is baccalà mantecato, whipped salt cod served on toasted bread.
Venice is such a special place that kids will find it magical. Even the very idea that the roads have been replaced by canals is enough! Add to that the chance to see history come to life, take a gondola ride, try on carnival masks, or watch glassblowers and kids are sure to be captivated. The fact that delicious gelato can be found around every corner doesn't hurt either!
Dai un'occhiata agli altri nostri tour