This island is the largest in the Tuscan Island chain. Elba can be considered a sort of open-air natural, geological and botanical lab, thanks to its geological structure and its geographic position. Beyond the naturalistic interest, you should visit Elba Island even just for its water. I'll tell you more…its amazing landscapes, hidden shortcuts and unforgettable sunsets will make you fall in love.
Remains of the Etruscan, Roman and Medieval ages testify also a rich history and a fascinating past.
In short, Isola d'Elba is worth a visit. Better to go off-season if you like to enjoy a beautiful summer destination with its usually crowded beaches.
How and when to visit Elba island
You can visit the island during a tour of the Tuscany, pairing it with a wine tour and some days to spend in Florence with its unmissable museums and history. As we said, every Italian people go on vacation during August, so if you can try to choose another month to enjoy your visit. If you need a tan, June and July could be the right choice. May, September and October are cooler and can assure you a magical feeling because you will be almost alone surrounded by a fantastic nature.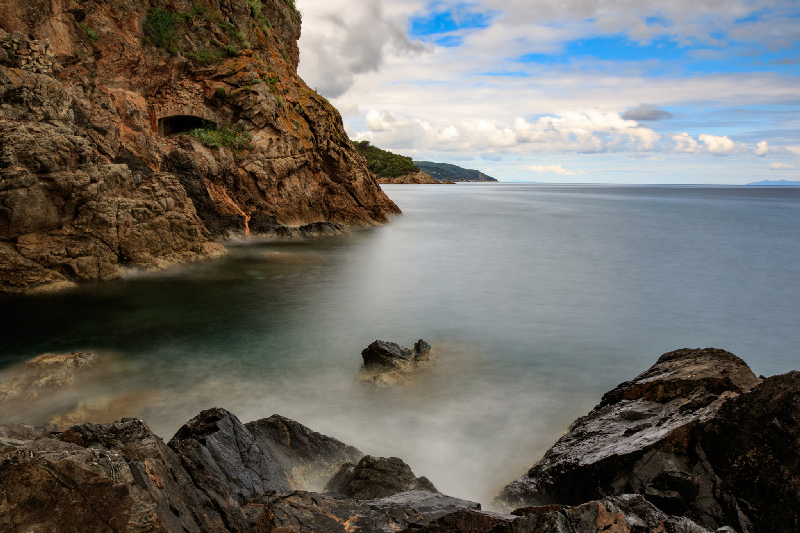 What to do on the island
As already said, this island is pretty big. The Elba Island is the biggest and most famous of the seven Islands of the Tuscan Archipelago. It hosts 8 different municipalities: Portoferraio, Marciana, Marciana Marina, Campo nell'Elba, Porto Azzurro, Rio Marina, Capoliveri, and Rio Elba. Each one deserve a visit. Architecture, culture, traditions highlight island's diversity and will make every kind of traveler happy.
There are plenty of amazing beaches to go, obviously. If you like swimming or going around by kayak, it's a perfect destination. 10-12 beaches (sandy or pebble, you choose) and also some little caves and gulfs with clear water and amazing nature. Snorkeling and immersion are suggested in some places. Don't miss the wreck at Pomonte Beach if you are an underwater lover! Capo Bianco and Le Ghiaie nearby Portoferraio, La Biodola, Lacona Beach, and Cavoli Beach together with Fetovaia Beach all are worth visiting.
Not only sea
Not only scuba diving or pleasant beaches and beautiful sea. Elba island is a perfect destination for many other reasons.
The Elba Aquarium (tanks were made by hand) and Wildlife Museum are really worth visiting. But if you like history and castles don't miss the Fortress of Volterraio. This is the most ancient building of the Elba Island and we can trace back its origins during the Etruscan age.
Napoleon lived here. He invested money in modernizing the island. Financed the construction of a road system and introduced administrative decrees, sustaining the rise of the industries. Villa San Martino is an eye on its life, Napoleon lived in this neoclassical building in exile for 9 months. The other residence of Napoleone Bonaparte is Villa dei Mulini. This latter was the city residence and had a strategic position but both deserve some hours for a visit.
Hiking
Last but not least, hiking. We love hiking. If you also do, don't miss some of the paths that Elba island can offer you. For the pleasure of your eyes. The beautiful landscape of the Elba Island can be admired from the top of the Capanne Mount (1019 meters above sea level). The trails will give you unique feelings with beautiful views. And remember, if you can't walk too much, there is the cable car.
There is a great variety of itineraries for views, vegetation and level of difficulty. Most of them can be booked with a guide. It will be fascinating. You will follow thousands of years of history, from prehistoric caves to ancient stone villages. You will see Etruscan furnaces and forts, battlefields, forts and destroyed villages. All witnesses of the past.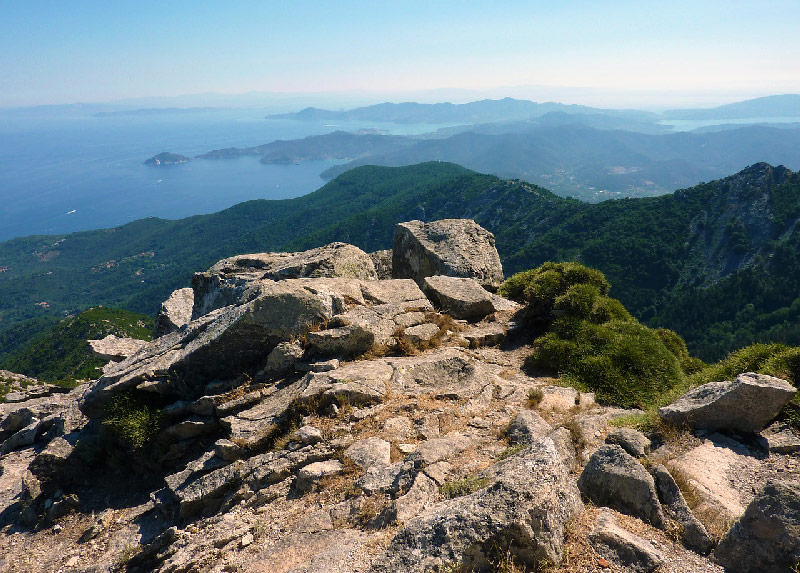 Food
Seafood is fresh and…ehi you are in Italy! So, just one suggestion: you should taste the schiacciabriaca (drunken cake). The Schiaccia Briaca, is a traditional Christmas cake born on the island. A peasant cuisine cake, a sort of unusual but delicious fruitcake-like dessert. The main ingredient in this dessert is Aleatico. Aleatico is an Elba's very own sweet red wine, which lends the cake its colour, a liquorous flavour and also the name, which could be translated to 'drunken schiacciata'.
Another great excuse to visit Elba island. What are you waiting for? Plan at least two or three days here during your next trip to Tuscany in Italy!
How to reach the island
A ferry from Piombino (Tuscany is few miles away) is the fastest way to get to the Elba island.
You can also fly from many different cities in the mainland to the airport of the Elba island. Marina di Campo airport – IATA code is EBA – is situated about 2 km from Marina di Campo (southwest) on the island. It is also known as Teseo Tesei Airport.
In addition, a private tour or a one-day long cruise could be the best choice for a charming and relaxing trip.
Discover our dedicated our 14 days Tuscany, Elba Island and Florence itinerary: it will leave you speachless.
Read also:
Rome vs Florence: Which Is Better?
A perfect place for exile: Escape to Elba, the island that only Napoleon wanted to leave on Daily Mail
Traveling off-season in Italy: when and where