The weather is a little more unpredictable, but we are big fans of the more moderate season in Italy. The first truth: who said that Fall and Spring are OFF-seasons!? We believe they are ON seasons! 😛 Call it as you please…traveling off-season in Italy can be a great idea.
What does it mean off-season in Italy?
You know, it is hard to talk about off-season here. All-year-round this is a country that is visited by millions of tourists. Unique experiences are at disposal of your soul all days of the year.
From October to May, you can find hundreds of reasons to visit our peninsula. So what does it means traveling off-season in Italy? We are talking about shades of meaning, details. Maybe nothing very important, but we think these things can make your trip different. Unique.
Let's see what are we talking about.
It's more about quality than quantity
Generally speaking, this is really true. We are committed to providing only the highest level of service to our clients. So, according to us, it is always "more about quality". Anyway, you can't deny that when everything is more quiet, well-done things come more easy.
You will not find hard to admire gorgeous blue skies. Sunny days are not so difficult to find, even off-season, thanks to the Mediterranean climate.
Spring and Autumn will give you the perfect weather for hiking if you should be so inclined. Don't miss the region of Trentino Alto Adige because it will let you breathless with its stunning mountain views.
Festival and holidays will welcome you almost in every Italian region during all year. We probably would choose May as the right month to enjoy this kind of events. May is the perfect month if you want to find your favorite festival. May 1 is a public holiday country-wide. The Giro D'Italia will be the entertainment for bike lovers during all month and Cantine Aperte the favorite pastime for wine lovers (Open Cellars is the most important wine tourism event in Italy)!
A tour of the best cities of the country is a classic that never dies. Autumn is sweet all over Italy (not if you choose high mountain, obviously) and in southern Italy you will probably find a climate that reminds you a lovely summer, no doubt. So, why don't you plan a tour of the Amalfi Coast? Amazing views and unforgettable paths you will never forget. And if you need a shelter, you will find plenty of cafes and delicious restaurants. Moreover, you will be near to Naples, the archaeological area of Pompeii, Capri, Sorrento. Perfect destinations for your trip to Italy from September to November. The region of Campania will surprise you.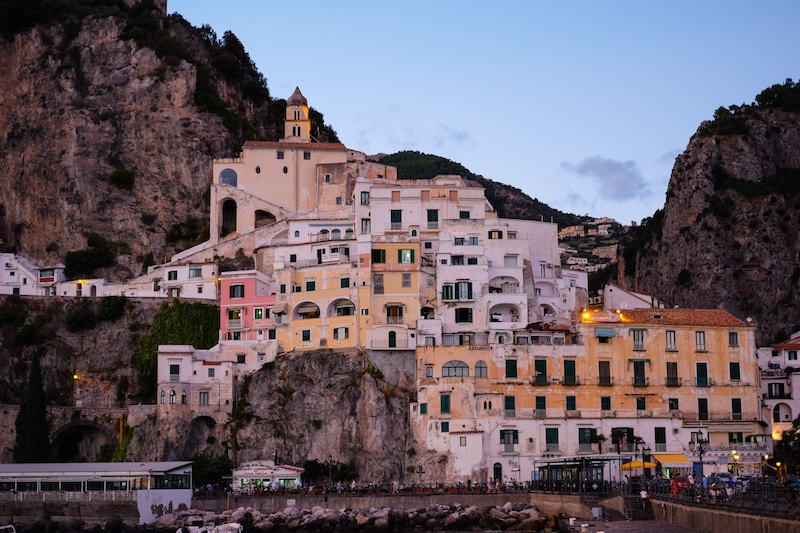 Some cities are simply evergreen. We just want to mention Venice, Florence, Rome. We created unique experiences that are designed to make your visit to these pearls different from any other tour. Immerse yourself in local culture, far from mass tourism it will be easier. You will revalue the meaning of traveling.
Food will make you love every day in Italy. If you are not lucky enough to find always sunny days, don't give up hope: Italian cuisine will save you.
Other suggestion for your off-season vacation in Italy
Just a fistful of unmissable places to see in your off-season trip.
Matera and its "Sassi": a city made of stone
Umbria – no sea coast but great wines!