Italy has many beautiful, historic opera houses, most of all still serving as theatres. Opera and ballet fans should visit at least one opera house and enjoy a live performance in one of this theatres in Italy. The opera season is generally from October to March or April but outdoor performances are held in the summer.
The best theatres in Italy
There are various beautiful opera houses and theatres in Italy. We just want to suggest the unmissable ones. That places you should see at least once in your life. Especially if you are an Opera-lover.
Teatro La Scala – Milan
One of the best opera house in the world and also known as La Scala, opened in 1778, these theatre was bombed out during World War II and then rebuilt. Successively it underwent an extensive and controversial renovation in 2004.
Very famous opera singers have performed in this theatre. To date, La Scala continues to draw the top voices and orchestras to perform on its stage.
The season opening at La Scala in Milan is one of the most anticipated social events of the city.
Teatro La Fenice – Venice
La Fenice re-opened in November 2004 and is one of the most famous theaters in Europe. This theater first opened in 1792. Its name translates as "the Phoenix", which is truly fitting as it has burned down twice in its over-two-centuries history. The theatre rose from its ashes just like the fantastic bird in 1996 with the support of many benefactors (Woody Allen, for example, was among them).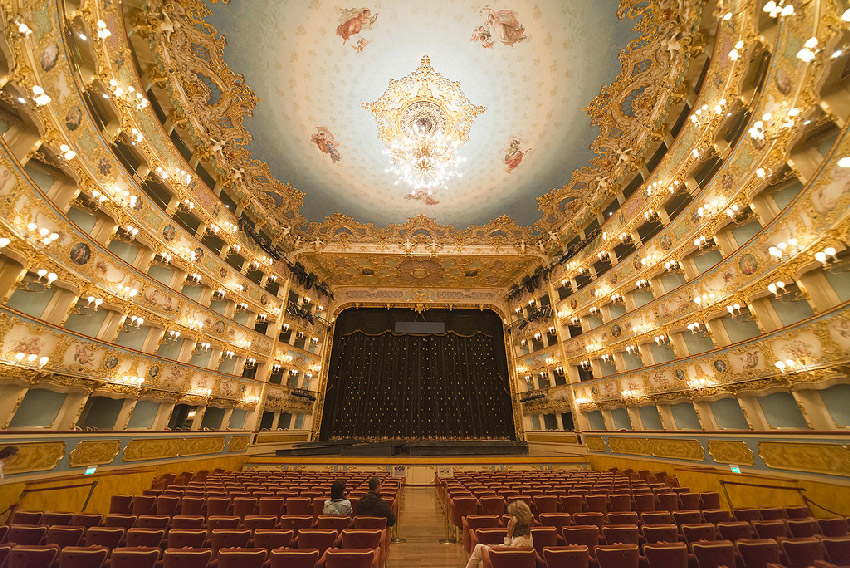 La Fenice theatre in Venice staged world premieres of operas by Rossini, Donizetti and Verdi.
Teatro San Carlo – Naples
The Teatro San Carlo is the oldest continuously active venue for opera in Europe and one of the best known theatres in Italy.
Naples' Teatro San Carlo was founded in 1737. Some of the first ballet productions were performed here. It is the oldest opera house in Italy and with over 3000 seats, this theatre was home to several icons of Italian classical music and opera. Opera, ballet, and classical music are still performed at Teatro San Carlo. There is also a museum in the planning stage.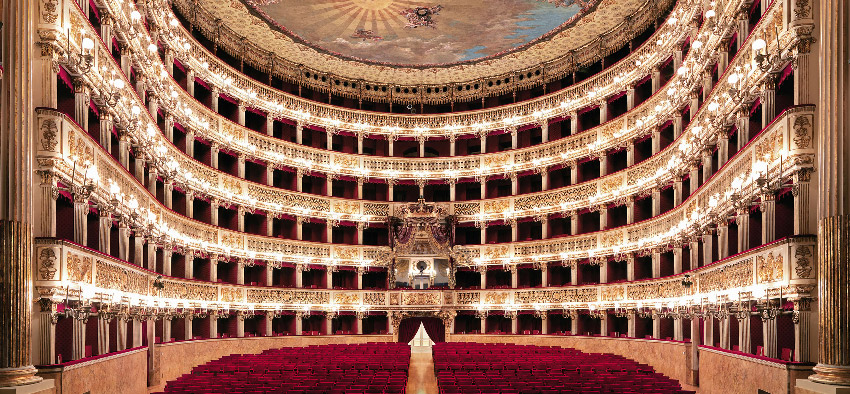 San Carlo's "orchestra tours" are very famous and expanded the theatre's prestige  throughout the world. Also note that the Teatro San Carlo is home to one of the foremost ballet academies in the world, and that here ballet performances as well as operas are often held.
With our exclusive 8 days tour in Naples and Amalfi coast we will bring you to visit one of the most prestigious theatre in the world.
Teatro Massimo – Palermo
Teatro Massimo in Palermo is the foremost opera house in Sicily and the third largest opera house in Europe, as well as one of the finest of the entire continent. Its acoustics are some of the best in the world. The domed building is considered an architectural milestone and was featured in Francis Ford Coppola's Godfather (III). Performances hosted all year-round include opera, ballet, and music.
A must-visit for music fans, opera lovers and architecture passionates.
Teatro Regio – Torino
This is another prominent opera house restored after being burned. The original 19th century theater was destroyed by fire in 1936. This theatre is home to musicals, plays, ballet and opera. Originally built as the royal theater in 1740, this opera house in Piazza Castello – a beautiful square in Torino – seated many international important persons, including Napoleon.
Arena di Verona
An amazing outdoor venue to watch performances, with a great acoustics (live shows are often performed without microphones). Fundamentally, a restored Roman amphitheater just like the Colosseum in the middle of Verona.
Unlike other opera houses – due to its outdoor setting – the opera calendar for the arena is during the summer. This open air venue does host also other outdoor concerts (pop music and not only that) during the rest of the year.
Read also: The five most visited museums of Italy