Italian lakes are a peaceful destination. Perfect for a luxury vacation in Italy, for excursions to discover nature  and also just for relaxation. Lakes of Italy are not huge stretch of water, but are among the most fascinating of the whole world.
Lakes of Italy: just a home for VIPs?
Italy is one of the favorite places where international VIPs love to hide themselves. Rounded by luxury, beautiful houses and villas and, indeed, staying in a perfect place to invite friends for stylish parties. Who would not want to spend a few days in George Clooney's house on Lake Como (you can see the most famous Italian lake in the cover image of this post)?
But Italy is not only fancy life and there are many other heavenly lakes scattered throughout the Italian territory. Here a list of Italian lakes including those with an area >10 km².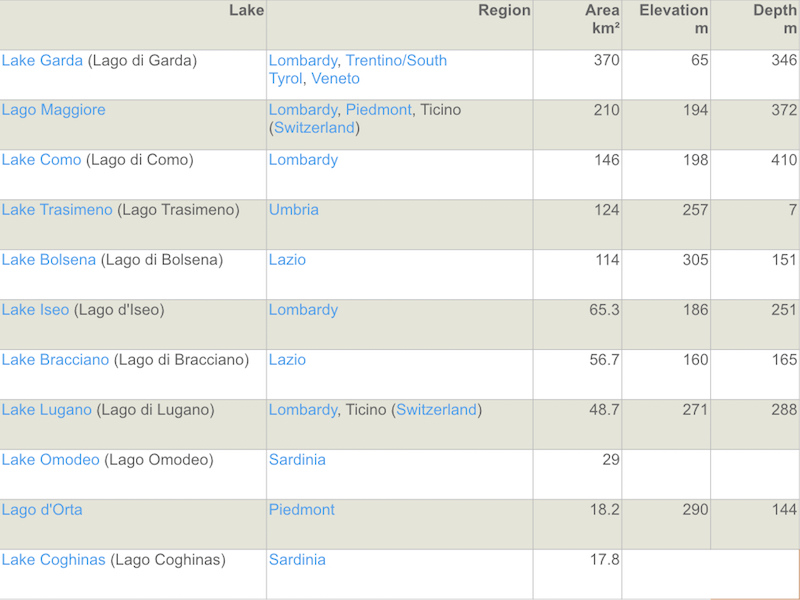 Every lake has its peculiarity. Every landscape is characterized by a beautiful unique color range. Different at every hour of the day. Just want to give you some written snap-shots to tease your interest.
Lake Como. No need to describe it. Infinite views, probably the most charming lake in Italy. Despite his fame, it is a quiet place, the tourism is on such a small and human scale and there are only a handful of hotels. You just have to take a boat tour and enjoy the choreography of water and mountains.
Ferries and boats will help you visiting Lake Maggiore and its beautiful corners: the Borromean Islands at the centre of the lake (Isola Bella, Isola dei pescatori, the Isola madre). Don't forget to visit the sleepy village of Ranco and don't miss the castle of Angera.
Lake Garda is possibly the most beautiful lake of Italy and it is also the largest one. Surrounded by places to visit and with a ring of mountains that stores the heat, it presents a good enjoyable climate. Michelin-starred restaurants, pretty towns, not far from the most famous Italian amusement park (Gardaland). Lake Garda makes everybody agree.
Read also: Italy: no country (just) for old man
Lake Orta and lake Iseo are worth a visit but next two lakes we will show you are less known and more difficult to reach.
Both lakes are in the region of Trentino Alto Adige in Italy, near the border with Austria and Switzerland. We are talking about the Lago di Braies (Pragser wildsee) and Lake Carezza. Two of the most magical lakes of Italy.
Pragser wildsee is located in the Prags Dolomites in South Tyrol. Simply breathtaking. The image above can give you a preview. Mountains, water, and green forest. If you need to take a break from reality, this is the right place!
It takes about 1.5 hours to walk around the lake. But it's worth a walk! Don't forget your camera!
Lake Carezza (Karersee) is also called 'The Pearl of the Dolomites'. A must-see sight in the Trentino-Alto Adige region of northern Italy. Mountains, hundreds of trees, pure air. A corner of paradise, where the clear green waters reflect the Rosengarten and Latemar.