The moment you've been waiting for has finally arrived: you booked your trip well in advance and everything is organized down to the smallest detail, and now the anticipation rises, your trip to Italy is just around the corner. Are you sure you have packed all of your Italian travel essentials?
Here are our useful tips for preparing your luggage, from what to wear in Italy to which souvenirs to take home.
What to take on a trip to Italy?
Here are some useful Italian packing tips so you're ready for any situation!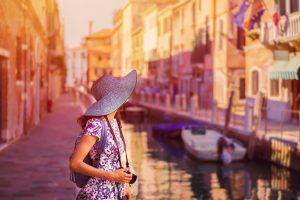 What to wear in Italy. This is a question whose answer depends on your date of departure. Autumn is approaching and, if your journey is too, then it's useful to remember that the Belpaese has a mild climate. Cities like Naples, Rome, and Florence, (which you can visit if you choose our 13-day tour from north to south, from Pavia to the Amalfi Coast), lend themselves very well to long walks to explore their outdoor monuments so be sure to wear comfortable walking shoes or sneakers. An umbrella in your bag and a light cardigan should be enough for your autumn trip, when the pace of tourism is slowing down and you can relax and devote yourself to the discovery of the magical places that the country offers. If you plan to travel to Italy in the summer, a parasol or hat to shelter from the sun, or a handheld fan in your bag are useful allies against the heat of large cities.  And remember that every Italian city has a wealth of beautiful basilicas and churches that you will be sure to want to visit, if so, keep in mind that you'll be required to wear appropriate clothing. Whatever the season, with the endless apps out there that forecast the weather, you'll always
know in advance what to wear for your day of sightseeing.
And for your special dinners, an outfit suitable for a high-class club's dress code is highly recommended: but don't worry if you didn't bring the right clothes with you, you'll certainly find something elegant in one of the many Italian boutiques that meets your needs.
In your Italian travel checklist, it is essential not to forget small useful items that may be necessary to have close at hand, such as medicine for example. Ask your pharmacist for advice before leaving and remember that it is always a good idea to carry the medicine with you sealed in its original packaging. In case of necessity, a "medication passport", a list of all the medicines you use or that you are allergic to, is very useful. Request it well in advance from your doctor. For all other bureaucratic issues, such as insurance or visas, which are not always essential for your Italian visit, trust the experience of Dragonfly organized trips in Italy, we will take care of all the paperwork so that you can relax and focus on your dream vacation.
After the "bureaucratic" advice, a little reminder so that, in the general enthusiasm for the trip, you don't slow down your schedule by forgetting any necessary little items. Above all, an electrical adapter (as everyone knows by now, you need a specific type of electrical plug to recharge your mobile devices in Italy). Alternatively, you can always buy one on your arrival at the airport.
Make sure your smartphone has an adequate data connection and a plan which doesn't make you spend an exorbitant amount so that you can use it to download useful travel apps, such as an Italian translator. Knowing the linguistic expressions of your destination is always a smart move. With your smartphone you can take all the photos you want but for a self-respecting chronicle of your Italian tour don't forget to take a camera with you so that you can immortalize the most beautiful views of the country. The passion for photography and for travel often go hand in hand.
And What to Bring Home From a Trip to Italy?
There are things you need to pack before you leave home and others that you absolutely must take home with you at the end of your tour of Italy. The photos that you've taken are already a great souvenir, but to make your return home as special as your arrival, take a little bit of Italy with you by choosing a product of the Made in Italy culture. Murano glass from Venice, ceramics from the Amalfi Coast, beautiful bags and gloves in real leather from the heart of Tuscany. Fine wines and liqueurs, creations in gold, and personalized fragrances. But be careful not to exaggerate while packing your bags, always consult your airline to know the correct baggage weight limits. When preparing your packing list for Italy, be careful though.  Always leave a little extra room in your suitcase for a great longing for discovery before leaving home, and for the memories you've made and your desire to return to Italy when you leave. They are the best ingredients to spice up your tour.