From a Ruined Convent to a UNESCO World Heritage Site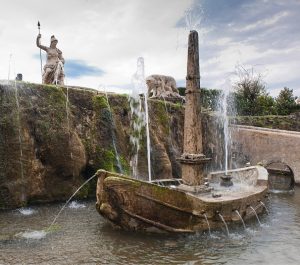 The highest expression of Renaissance culture has a name and it is Villa d'Este, Tivoli. Get ready to enjoy an open-air marvel, included in the UNESCO list of World Heritage Sites, and which every year is confirmed as one of the most visited sites in Italy.
Its history dates back to 1550, when Cardinal Ippolito d'Este became governor for life of Tivoli and arrived there in September of the same year. Accustomed to much a more luxurious abode and fascinated by archeology, he was inspired by all of the archaeological finds in the Tivoli area, and he decided to renovate the convent assigned to him as his residence and to build a Villa more suited to his high standards.
With the architect Pirro Ligorio, there were many craftsmen and artists, including Bernini, who worked on this Renaissance masterpiece.
Take a look at our 9-day tour around Rome, Florence and Venice. We have inserted a small detour to Tivoli because we don't want you to miss even one noteworthy corner of our country.
Villa d'Este is a gem to be enjoyed slowly, take your time, there is a lot to see. Apart from the impressive interiors of the villa, with its stuccowork, decorations, and frescoed walls, whose motifs recall Greek mythology, the gardens and the fountains are the attractions that really made the residence of the Governor and Cardinal Ippolito d'Este famous and imitated throughout the world.
The Gardens of Villa d'Este in Tivoli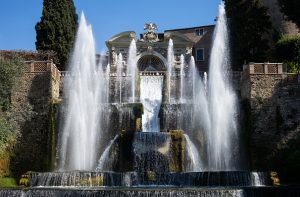 We are talking about the most famous and most reproduced formal Italian garden system in the world, so much so that you can find the same style and layout throughout Europe, especially in France, in the garden of Fontainebleau. A system built of avenues, sculptures, lily ponds, pavilions and terraces that house within them actual botanical gardens with flowers and shrubs from the Indies. There is a mixture of references and inspiration in these gardens which are designed in the style of the Babylonian hanging gardens and apply the ingenuity of the ancient Roman builders in the reproduction of its irrigation system.
Surrounded by such beauty, it is in the gardens of Villa d'Este that many artists and intellectuals of different eras found the right artistic passion for their works. Just only example is the German composer Franz Liszt, who for about twenty years found in Tivoli a fertile ground for his harmonies and held concerts surrounded and inspired by the scenery of the Villa.
Art in the fountains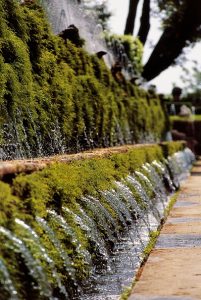 The many fountains will capture all of your attention. Once again, examples of mastery and talent that surely deserve a visit. Here are those most appreciated by visitors: Fontana del Bicchierone, designed by Bernini in 1600, in which elements appear that is seen also in his other famous fountain, Fontana di Trevi.
Fontana dei Draghi (Fountain of the Dragons) which is said to have been built in one night, in honor of the visit of Pope Gregory XIII; and also La Fontana di Nettuno (the Fountain of Neptune) with its cascades and jets; the Fontana dell'Ovato, impressive and baroque, inspired by the surrounding natural landscapes. And last but not least, the Fontana dell'Organo is a rare example of scenography and technique, where the waters, driven by a hydraulic mechanism, create games of jets and music, making the statues adorning it resonate.
It doesn't end there though: the last parade of water jets and you'll find yourself walking in the Viale delle Cento Fontane (the Avenue of a Hundred Fountains), among the locations most photographed by visitors. One hundred fountains located on three levels with symbols typical of the Baroque period accompany your stroll for a hundred meters on a floor tiled with ancient marble.
Reaching Villa d'Este, Tivoli, for a day trip from Rome does not take much time and with all the comfort of our luxury tour you will have your personal escort who will take you directly there, for your day "out of town". There is no reason to wait, book now!