Some Curious Facts About Vesuvius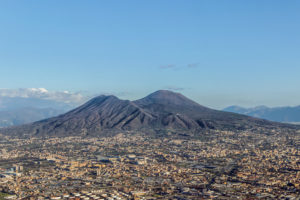 A sleeping giant that has a story to tell,  as shown by the remains of the buried city of Pompeii: this is Mount Vesuvius,  immersed in the Vesuvius National Park, 8,482 hectares that span 13 municipalities. It is a very interesting territory in many aspects, both for those who go there for study and for those who simply want to explore the most famous volcano in the world.
The Vesuvius National Park was officially born on June 5, 1995 and for almost 25 years has aimed to conserve both animal and plant species and to maintain the hydrogeological and biological ecosystem that has formed over time thanks to the presence of the volcano's very fertile soil.
The guided tours of Mount Vesuvius aim to transmit a profound respect for nature: in total there are 9 trails, for a total length of 54 km that can be traveled on foot; 6 circular nature trails (La valle dell'inferno, Lungo i Cognoli, il monte Somma, La Riserva Tirone, Il Gran Cono, Il trenino a cremagliera), an educational trail (Il fiume di Lava), a panoramic path (La Strada Matrone ) and an agricultural path (Il Vallone della Profica). Each of the routes is obviously full of indications so you will never lose your way and you can safely enjoy the view from the heights of the volcano, because believe me, it is not a sight that you will ever forget.
What else immediately comes to mind when you think of Vesuvius if not the city of Pompeii, which in 79AD was buried under the lava from the eruption of this fearsome volcano? Find out more about Pompeii and its latest findings in our article.
What to See Near Vesuvius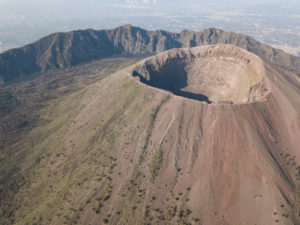 The Vesuvius National Park is not the only naturalistic attraction that this corner of Campania has to offer: if you are passionate about geology or just curious to discover an extraordinary place, you can continue your vacation as explorers in the Campi Flegrei, a volcanic area where it is possible to closely observe the Solfatara of Pozzuoli where there is a volcano that is over 4,000 years old, and Monte Nuovo, one of the youngest volcanoes in Europe. It is immersed in a naturalistic oasis, and if you follow the trail you will be immersed in the Mediterranean scrub until you reach the Lago d'Aveno, a spot highly praised by Homer and Virgil where you will find the Temple of Apollo, a thermal area.
Nature, as you can see in these seemingly inaccessible locations, offers memorable surprises in the most unexpected places!