Today we present Porto Cervo, one of the most beautiful spot of the ancient islands of the Mediterranean Sea: Sardinia. We invite you to be captivated by its incredible beauty.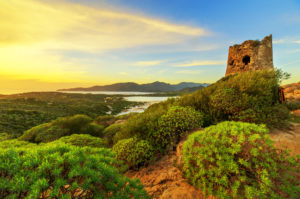 In this island colored by ancient and rural traditions, you will have the opportunity to roam unspoiled countryside, coasts and sea beds that are unique in the world, which shine through the crystal clear waters of this paradise.
With our tours you will enjoy all of this with the exclusivity that a trip like this deserves: to fully appreciate the whole experience. The beauty and tranquility of Sardinia will accompany you throughout your stay in the locations that we have chosen for you with care and attention.
Boat Trips from Porto Cervo
The luxury of the Costa Smeralda certainly needs no introduction. Here nature, the blue of the sea, and the luxurious and highly exclusive hot spots where you can experience the allure of the night all coexist together. During the day you can swim among the starfish, at night you can dance under the stars in the sky. On our 15-day tour between Rome, the Amalfi coast and Sardinia, you can experience for yourself the beauty of one of Italy's most characteristic islands.
You will stay in famous Porto Cervo where, in one of its most exclusive resorts, you will have at your disposal everything you need to relax: private beach on a crystal clear sea, swimming pools, golf courses and wellness centers. The perfect solution  to relax and re-energize during the day so you can dance the nights away in the exclusive and luxurious hot spots of this corner of paradise.
Not every night though, you can't miss out on the fantastic wonders of the sea.
Whenever you're ready, you can choose a day to set sail on a speedboat or catamaran, and reach one of the most beautiful and exclusive beaches in Sardinia, with a stop at a traditional restaurant overlooking the sea, where you can sample the fish specialties of this incredible location. You will discover small idyllic beaches and swim in waters like those of the archipelago of La Maddalena: an island, in an island, that are unlike any you'll find elsewhere. Here it is common to glimpse dolphins along the way, and swim in the company of the hundreds of fish that live in these depths.
You can't experience Sardinia without also visiting its hinterlands. Have you ever seen a Nuraghe? These ancient stone buildings, which date back thousands of years ago, are the remains of ancient civilizations of a very remote time that we are still learning about today. You will wander through streets where you will be able to admire rugged and genuine natural landscapes, shaped by the strong wind that often blows across this island and by the sun that kisses it.
Sardinia awaits you, dive into its splendor.