Traveling in Italy for the first time is certainly one of the most memorable experiences you can have and for this reason, entrust yourself, and your vacation, to our expert guides. We have created for you the perfect itinerary for your first trip to Italy, to satisfy your thirst for discovery and show you the true face of this unique place.
The obligatory stops on your journey from south to north can only be Naples, Rome, Florence, and Venice.
Naples between folklore and culture
Of the city, Goethe said "Napoli è un paradiso, ognuno vive in una specie di ebrezza e di oblio di sé stesso!"

"Naples is a paradise, everyone lives in a kind of intoxication and oblivion of himself!"
Surrounded by the warmth and hospitality of Naples, lose yourself in the crowded streets of the historic center, among the workshops where skilled artisans produce the incomparable nativity figurines, a uniquely Neapolitan souvenir, in the alleys of San Gregorio Armeno.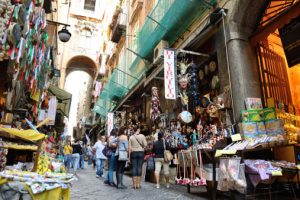 And above all, in the homeland of her Majesty "La Pizza", do not resist the call of your taste buds. The list of famous pizzerias in Naples is endless. We suggest you go to the heart of tradition, however, and have lunch in a place that is extraordinary, where even Julia Roberts went in her film "Eat, Pray, Love". You will be amazed by the confusion of the densely populated district of Spaccanapoli, but here you can enjoy your pizza from the one and only "Michele". Your palate will thank you.
Now let your eyes have a turn and visit a work of art that you must see if you're lucky enough to spend a few days in the city: a rare example of talent that fully  expresses itself in the Veiled Christ in the Sansevero Chapel.
Rome, an essential stop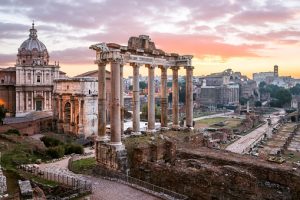 Where to travel in Italy for the first time? Certainly to Rome; listen to its call and immerse yourself in a world suspended between the stories of the past and the bustle of the present.
You could spend your entire vacation here because the city has so much to discover and experience. So, optimize your time and follow our advice. Our tours include guided visits to the ruins of imperial Rome, the Vatican museums, and the Rome of the Jewish Ghetto, with your own private guide. You will have the city at your fingertips on your organized journey.
And if this is your first trip to Italy, then that is precisely the reason that you should see as much as possible. Waiting for you, at just over an hour away from the capital, there is a view that we are sure you have never admired elsewhere: in the valley of the calanques, you will find Civita di Bagnoregio, known as "the dying city". Take a stroll to explore the meandering alleyways of this village, among the most beautiful in Italy, in the province of Viterbo, and have lunch in one of its exclusive restaurants that offers a rich selection of labels to wine enthusiasts. You can discover this beautiful etruscan town with our exclusive tour of Orvieto and Civita di Bagnoreggio.
In Tuscany, to each his own tour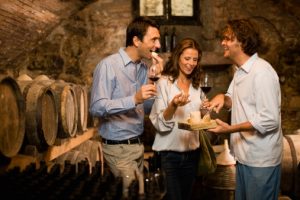 Tuscany is a popular destination because it offers artistic centers like Florence and unique monuments like the Tower of Pisa, but also exclusive locations immersed in the countryside and inns where hospitality is their business card. Just think of the starred accomodations that we have selected for you, like Castello del Nero Hotel & Spa, where the suites and lodgings have been created in a castle dating back to the twelfth century, a historic residence of noble families. A small kingdom nestled between Siena and Florence.
Activities such as excursions in search of truffles or trips into the Chianti countryside are already tailor-made for you. This region will give you an all-round tourist experience, from museums to the traditional yet refined cuisine and whichever itinerary you choose to follow will never be humdrum or monotonous.
To create an experience for you that involves all 5 senses, we have selected a wine tasting in a Tuscan winery famous not only for its nectar, among the most delicious is the Brunello di Montalcino "Riserva", but also  because it is run exclusively by women, the ladies of Brunello, an totally Italian example of female entrepreneurship using the raw materials of the territory. Enjoy this unique tour in Chianti, the "kingdom" of wine and food tasting.
Last but not least: fascinating Venice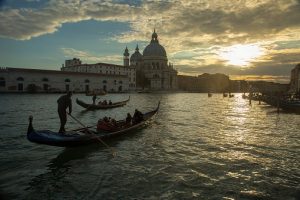 So far, we have tried to show you how every Italian city has its own unique characteristics and how each of these places can offer you such diverse experiences. On this journey, however, the surprises aren't over yet. You cannot go home without giving yourself a day in Venice, certainly one of the best places to visit during your first time in Italy.
To end your tour with a flourish, we decided to have you wander among the Venetian canals, sipping prosecco and tasting the famous "cicchetti", the classic aperitifs of the city. Visiting Venice by boat is the best gift you can give yourself when you come to this city: you will have a private skipper who will take you around the lagoon to discover all the islands that, together with the city itself, demonstrate the uniqueness of this UNESCO heritage site .
Venice is a destination in which unchecked tourism is putting at risk the wellbeing of the sites of interest, and alternative proposals such as the choice of a boat tour could prove to be the best solution for you during your stay.