Spritz, Martini, Negroni, Apertas, Bellini, Mojito, Daiquiri, a colorful soft drink. Or just a beer, a spumante or an amazing Italian glass of wine. The most important thing is not what you are going to drink, but where you are. And who you are going to drink with. Better said, people are more important than your glass for a perfect aperitivo! And style is also important…obviously!
How is a perfect aperitivo in Italy?
Let's start from a footnote on history of the aperitivo.
The term originates from the Latin word, 'apertitiuvum' indicating 'opener.' In France, it is pronounced aperitif (a-pear-e-teef), and in Italy, aperitivo (a-pear-e-teevo).
We can trace early therapeutic versions of aperitivo back to 500 BC, when Hippocrates created the recipe for the vinum hippocraticum. It was a sweet wine with herbs. Until the Middle age people continued to conceive this prototype of aperitivo as a medicine. 'Taken before a meal to stimulate the appetite'. And today the aperitivo is still basically connected with that drug and that concept.
-An alcoholic drink taken before a meal to stimulate the appetite.
The Latin verb mentioned before suggest the idea that the drink – and the unmissable snacks – opens (or stimulates) your appetite. As we use to say in Italy: – l'appetito vien mangiando! (the appetite comes when you eat).
Read also: Spumante vs Champagne and How to taste Italian wine
Italy gave birth to the new concept of aperitivo
It is hard to trace back the exact origins of the Italian aperitivo.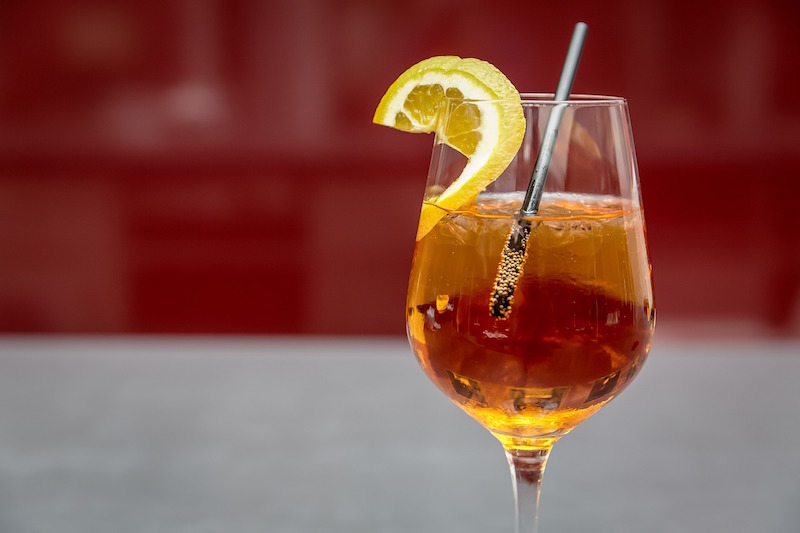 Probably the aperitivo concept started in Torino in 1786 when Antonio Benedetto Carpano created the vermouth liquor. It's also been reported that in the 1860s another man, Gaspare Campari moved to Milan, where opened a café where served his home-made invention, the Campari liquor.
However, the new concept of aperitivo – a bitter drink paired with snacks – did not take off until the 1920s in Milan. Milan is the Italian capital of the perfect aperitivo. If you have already been in Milan, we are sure you know the Navigli area. The navigli were a system of navigable and interconnected canals around Milan, Italy. To date, Navigli basically means great cocktails and great food or a good 'aperitivo'. Enjoyable outdoors, hundred people smiling and talking in a stylish lively atmosphere for the happy hour!
Today you can enjoy an aperitivo throughout almost any city or town in Italy. Whether you're in Milan, Torino, Florence, or Rome, you're sure to find many cafes, restaurants, and hotels with every kind of aperitivo.
The easiest version will be served as a drink paired with olives and nuts. Some places make it very interesting offering different types of fresh pasta, cheeses, grilled, sautéed or crunchy raw vegetables, sandwiches and so on. Some even go beyond the traditional Italian food by serving up oriental dishes.
So, is it a dinner?!
No, it isn't. The idea is to not make the aperitivo your dinner – although some people have mistaken this concept and often fill up on 3 or 4 plates of foo – but having a nice hour together with friends and (why not) getting to know someone else. Obviously, while sipping your favorite Italian cocktail paired with tasty snacks.
Simply, let's have some finger food with a drink while socializing and stimulating your appetite for dinner. Yes, socializing…as we said "people are more important than your drink". This way the yours will be a perfect aperitivo.
Read also: Good table manners in Italy
So, don't forget the best part
During your aperitivo (your happy hour) you can talk about fashion, cars, your job, major issues or little details. This is the time for relaxing, take your time to unwind. We suggest you to choose a place that offers you a good choice of aperitivi and a nice selection of snacks and maybe a good view. Sitting at your table (or standing as many people do for example in Milan in the navigli area), learn to taste this beautiful Italian habit.
The one thing that has never ever changed however is the fact that we Italians are very good when it comes to enjoying life. Our country, our food, our history make everything much easier.
Take a look at our itinerary for your exclusive 8 days tour between Venice and Emilia Romagna and enjoy the perfect aperitivo.
Read also: Have you ever eaten something unusual while on a travel?
---
Other resources
Italian-inspired cocktails on Saveur