Wine production in Italy is a true art that has been handed down for centuries: each region boasts a wine making tradition, and today on this virtual tour we'll discover not only fine wines but  also wineries and estates that are a perfect combination of tradition and architectural functionality, often real works of contemporary art set in the Italian landscape. We'll start this short review in Umbria, then continue to Tuscany. Our tours are designed to satisfy the curiosity of our clients in all its aspects: take a look at the Dragonfly Tours website and start dreaming about your personalized trip to Italy.
The Tenuta Castelbuono looks like a large "shell" that emerges from the vineyard. We are in Umbria, in Bevagna, municipality of Perugia. The famous artist Arnaldo Pomodoro designed the winery, creating a building – sculpture with incredible lines. It is here that products such as Montefalco Sagrantino and Montefalco Rosso are born, two excellent wines. Tenuta Castelbuono is the first sculpture in the world where people work and live, a work of contemporary art that is unique in its kind.
The winery Petra di Suvereto (Livorno) was designed by the starchitect Mario Botta who lent his genius and his talent to create an architectural masterpiece.
The Petra winery is immersed in a landscape of pristine beauty that covers over 300 hectares. The architect's project fits harmoniously into the surrounding landscape: the wine cellar is carved into the slope of the hill and merges smoothly with the greenery. Natural light spreads throughout the space, reflecting off the Prun stone walls. The central space features a cylinder that houses the wine-making tanks, while on the ground floor there is a tunnel that penetrates directly into the hill, culminating in a rock wall, where the wines rest.Wine, architecture and nature meet at the Cantina Antinori, a project supported by the Marquis Piero Antinori. Architecture and sustainability: the Archea studio, that designed  this incredible structure located in Bargino, in the heart of the Chianti Classico region, created a project that would have a low environmental impact and high energy savings.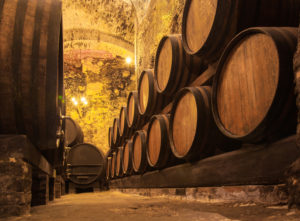 And last, but not at all least, the Tenuta Ammiraglia owned by the Marquises de 'Frescobaldi. The designer wine cellar was built by Piero Sartogo in the Tuscan Maremma area. The particular cantilevered roof of the estate is immediately striking, a glass and steel structure with contemporary lines.
Design and functionality: this futuristic project uses renewable energy for its wine production, while the roof covered with plants creates the perfect microclimate for the barrels present in the cellar as well as allowing the architecture to fit harmoniously into the Tuscan landscape. Curious to discover these places? We will accompany you on an incredible tour, where you will be captivated by the combination of architecture and nature, and transported by the incomparable taste of good Italian wine.