A vacation with Dragonfly Tours is a trip that is built around the wishes of the many customers who rely on us to experience a journey off the beaten path. Because a visit to the many cities and places that Italy offers could never be a pre-packaged activity, but a customized tour shaped by the enthusiasm of discovery.
Go straight to the heart of Italy
The uniqueness that lies beneath the surface of the most beautiful places in Italy awaits you and if you want to discover the essence of the Belpaese with us, we will be happy to accommodate every request.
Dragonfly Tours is a tour operator that is founded on the passion of its team and its knowledge of the Italian territory and the American people, thanks to the joint work of our offices in Rome and Los Angeles.
In our catalog of possible trips no detail of the journey, large or small, is left to chance. The experiences and activities of our personalized tours are what allows you to breathe the reality of every city and every place that you visit, so you can abandon every stereotype to which you may be accustomed.
The spirit behind the work of Dragonfly Tours, the interview in Ulisse Magazine
To help you fully understand the spirit that drives the work of the Dragonfly Tours team here's an excerpt of the interview of the general director and co-founder of Dragonfly Tours, Roberto Maria Rinaldi, published in the travel magazine Ulisse, distributed on Alitalia airlines.
«We offer our customers – says Roberto Maria Rinaldi, General Manager and Co-founder of Dragonfly Tours – not just a simple journey, we offer a true experience. So much that we don't have a proper catalog with planned offers. We have a sort of window that showcases what we can do. First off, we try to understand what kind of travelers we are dealing with, and what kind of people they are traveling with, usually relatives and friends. This helps us create a tailored itinerary. Moreover, we are different from other tour operators because our target is not just helping travelers "visit" Italy, we want them to "experience" the Italian spirit through off-the-beat situations.»
Exclusive experiences and dedicated assistance for a customized tour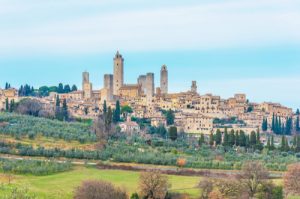 To help you better understand what we mean by exclusive and off-beat experiences, it is enough to know that you can have lunch in an underground Etruscan cave in the maze-like alleyways of the city of Orvieto, in Umbria, or dine in one of the most famous medieval towers of the Tuscan village of San Gimignano, or even go to a perfumery in Florence near the Ponte Vecchio and create a personalized fragrance with a maitre parfumeur. Or would you prefer an exclusive visit to the Basilica of San Marco in Venice, or private access to the Vatican Museums and the Sistine Chapel of Rome?
The luxury of discovery is no longer a dream if you choose a customized tour with Dragonfly Tours. Also, among the many advantages of a customized tour, don't forget that a customized private trip allows you to enjoy the luxury and beauty that certain situations and places aren't able to express with a group tour. We offer an accessible luxury experience, even regarding the cost. So why not treat yourself to the beauty of a tailor-made tour to discover the most interesting and unique itineraries? Even before the journey begins, you will have a team dedicated to you 24 hours a day who will also give you support during your stay if you want, as Roberto Maria Rinaldi continues in the interview:
«Another feather in the cap of our way of working is the fact that we follow our customers in every single detail, from A to Z, from the planning of the offer to their return back home, offering continuous assistance during the entire journey. In fact, even though in our eight-year activity we have reached important results in terms of number of customers, we are focusing mostly on quality. And talking about quality, there is a result we are particularly proud of: we achieved 98% of TripAdvisor five-star reviews». There is nothing more satisfying than satisfied customers, their positive judgment and their reviews on the channels where we are present are the best reward for our exciting job.