A tasty story of love and ingredients
What is gelato and what is gelato made of? Let's discover together by going directly to the origins of its sweetness.
The Recipe and the Origins of Gelato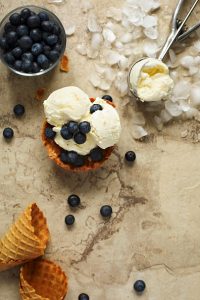 Gelato as we know it today, creamy and fresh, is a pleasure for the palate and really knows how to please everyone with the variety of flavors that it offers. In the traditional gelato recipe there are only a few simple raw materials, such as milk, sugar, cream and eggs, to which you can add countless top quality ingredients to create delicious variations.
Let's discover the history of gelato and the most interesting anecdotes.
It all started in Sicily and we have the Arabs to thank for introducing the habit of using sugar cane for infusions that were then made into sorbets. How? With ingenuity and chemistry!
In 1686, the Sicilian Francesco Procopio dei Coltelli, after numerous attempts to create the perfect blend of gelato, became famous in France, opening one of the most famous literary cafes of the time: the Caffè Procope, a meeting place for artists, intellectuals and famous personalities who loved to enjoy this special and unusual novelty from Italy.
The best Italian ice cream parlors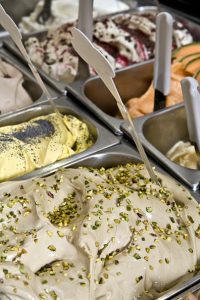 From the north to the south and on the islands, Italian gelato is a mandatory part of local and regional cuisine. A little piece of advice on how to recognize artisanal and certainly the best gelato? Beware of ice cream parlors where you see windows with mountains of brightly colored ice creams and improbable flavors like il puffo (the Smurf). Homemade gelato is quite a different thing!
Gambero Rosso, a renowned culinary guide in Italy, has compiled a list of the best 300 Gelaterie (Ice Cream shops)in the country, from over 37,000 shops. Among these, only 36 were awarded the highest rating of the symbolic "cones", for the quality of raw materials and the service offered. And, if you choose our 10 days tour of Florence and Tuscany, you will be lucky enough to have the opportunity to try some of the best gelato that the guide reports in this region, in Florence, San Gimignano, and Pisa. Here they are:
Gelateria della Passera and Gelateria Carapina in Florence; Gelateria Dondoli in San Gimignano; Gelateria dei Coltelli in Pisa. Isn't this already reason enough to book a trip and let yourself be pampered by the splendor of Tuscany while you taste some of the best gelato of Italy?
The taste of tradition
The classic, traditional and timeless flavors range from creams to fruit sorbets.
Chocolate, in all its variants; milk, dark, white, kiss (dark chocolate with hazelnuts), gianduia (hazelnut praline). Some other flavors are stracciatella (chocolate chip), hazelnut, timeless pistachio, even better if the pistachios are from Bronte (Sicily), fiordilatte, zabaglione, and coffee. A veritable explosion of sweetness.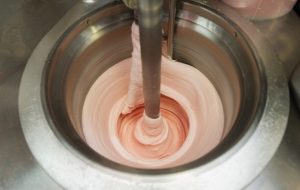 If you lean towards fruit flavored gelatos, pay attention to the seasonality of the ingredients. The most popular is a classic strawberry and lemon combination. The artisans of gelato experiment and have fun with berries, coconuts, mangos, peaches, melons, and all the riches that nature offers! With creams, sorbets or granitas (crushed ice) they will know how to refresh your day while you stroll among the beauties of the city.
A suggestion, if you are in Sicily let yourself be tempted by its traditions and experience the cuisine as if you were a local: the brioche with ice cream is an excellent alternative to a traditional breakfast. You are on vacation, you can indulge in the luxury of a few more calories!
A Short Guide to the Vocabulary
Here is a short list of phrases that will help you when you enter a gelateria.
Cono o coppetta? -Cone or cup? They are asking you if you prefer an ice cream cup or a cone.
Con o senza panna? –With or without cream? You will often be asked this question and they are referring to whipped cream.  Decide based on how decadent you're feeling.
Biscotto o cialda? –Biscuit or wafer? A crunchy note to accompany your ice cream.